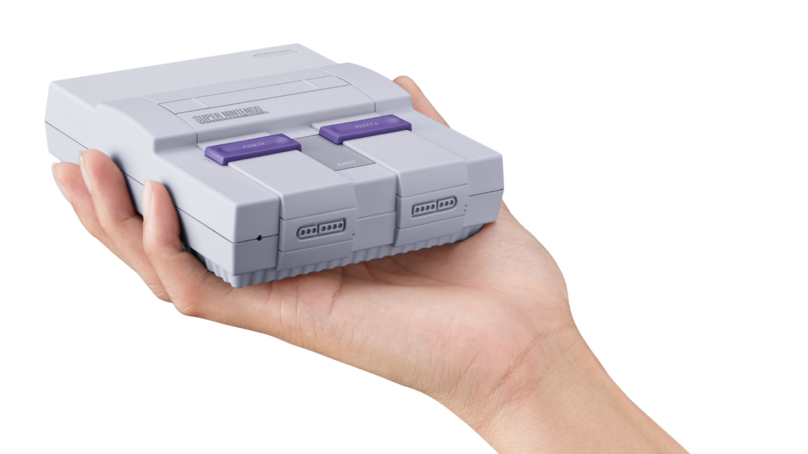 I think it was pretty safe to say that most of us saw this coming. Ever since the NES Classic Edition came and went, many had suspicions that this would continue on in the form of the SNES Classic Edition, and that's exactly what was announced today.
Nintendo just announced the SNES Classic Edition, which is of course, a tiny version of the original Super Nintendo console from the 90s. It comes pre-loaded with 21 games and one of them includes the never-before-released Star Fox 2. It will cost $79.99 and will release on September 29, which is pretty darn soon. The list of games are as follows:
Contra III: The Alien Wars
Donkey Kong Country
EarthBound
Final Fantasy III
F-ZERO
Kirby Super Star
Kirby's Dream Course
The Legend of Zelda: A Link to the Past
Mega Man X
Secret of Mana
Star Fox
Star Fox 2 – This particular game unlocks after beating the first level of the original Star Fox.
Street Fighter II Turbo: Hyper Fighting
Super Castlevania IV
Super Ghouls 'n Ghosts
Super Mario Kart
Super Mario RPG: Legend of the Seven Stars
Super Mario World
Super Metroid
Super Punch-Out!!
Yoshi's Island
In my personal opinion, I think this is pretty cool. It's less games and more expensive than the previous Mini console, but every single one of those are iconic games that are still remembered fondly today. Other than that, I think I have nothing else to say that hasn't been said already with the NES Classic Edition. I can already sense people from a mile away making snarky comments about how their Raspberry Pi is better, how it'll go out of stock very quickly or how they wanted their own arbitrary list of games to be included. We've heard it all before, but I'm sure that won't stop hardcore Nintendo fans or mainstream audiences to buy into this, or for cynical people to be negative about it.
Those comments are more in the service of self-flagellation than actually contributing to any kind of conversation, so just be aware of that when you inevitably see your Youtube feed be nothing but talk about this new product; this includes "hot takes," "edgy" commentary, unboxings or reactions on something that's been talked about to death before.
Source: Nintendo