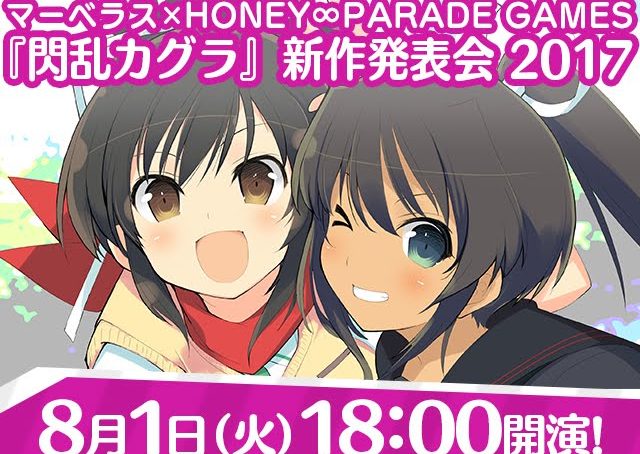 I had to stay up until 2am to be able to catch this 90-minute live stream on all things Senran Kagura, but I'm glad I did. Pretty much everything that showed up there was awfully exciting and even unexpected. All the news included two PS4 games, two Switch games and a new mobile title. Let me run through all of these:
Bashou DLC Character Announcement (Peach Beach Splash)
The presentation began with Kenichiro Takaki and an assistant greeting everyone and showing a trailer for a new DLC character for Senran Kagura: Peach Beach Splash. This character is named Bashou and is a fairly popular Hebijo character among the cast of the New Wave Japanese card game. It is apparently already available to download right now in the Japanese PSN store for 380 yen (only until August 8), but there is still no confirmation of this character hitting the west. Takaki did mention that he wanted all DLC to cross over to North America, but who's to say if it'll all show up at the same time, or if they will roll it out in pieces. Anyway, you can watch the reveal trailer above.
PlayStation VR Update for Peach Beach Splash
After showing the Bashou trailer, they announced that a VR update for Peach Beach Splash was currently in development. What you'll be able to do in VR will be fairly limited though. You'll only be able to use it during Diorama Mode and looking at the characters in the dressing room, rather than playing through the whole game in VR. Not much else was said other than that.
Peach Ball: Senran Kagura Announced For Nintendo Switch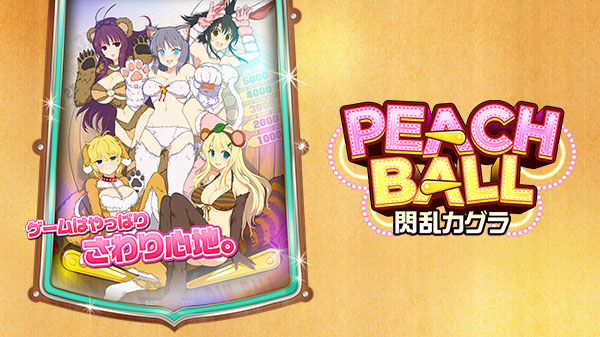 Here's the kind of game that I really wanted, but I never thought would happen. Even though Takaki himself expressed interest in making a pinball game at some point, I didn't think it would arrive so soon. But alas, my wishes have been granted and the announcement of Peach Ball: Senran Kagura was made during this presentation. Unfortunately, they only showed a poster, the logo and not much else; not even a release date.
Peach Ball will come to Nintendo Switch, have HD Rumble support and allow you to feel the bounciness of hitting objects and body parts through the Joy Con. The possibilities are vast with this kind of idea, so I await anxiously for more information on this game.
Gameplay Footage and Opening Movie for Shinobi Refle: Senran Kagura Revealed!
After a good long while of teasing this game, we finally have some more substantial information on Shinobi Refle: Senran Kagura for the Nintendo Switch. During the presentation, they showed the opening movie for the game and some gameplay. It was all fairly simple, with the Asuka character model being the same as the Estival Versus one and communicating through a visual novel style. Eventually, we got to see some motion controls in action through some hand, thigh and leg massages. As it was previously established, it is a very small game that only experiments with a few features, so don't expect this to set the world on fire. To further reinforce this, the game will come out in 2017 and will only cost 1,000 yen at release, which is roughly about $10 USD. You can watch the opening movie above and some gameplay below.
Shinobi Master Senran Kagura: New Link Announced For iOS and Android
After speculating over a simple trademark and logo, it seems most people hit the nail on the head when they predicted it would be a phone game. Shinobi Master Senran Kagura New Link was announced at the presentation as they showed off an awesome opening movie and a few snippets of gameplay. It will be an all-star battle game with 20 playable characters at launch. Obviously, they will be adding more and employing some micro-transactions. At first, I was convinced this was coming out on PS4, due to the outstanding graphics, but I was surprised to see that this was for mobile devices. I know some people might be turned off over the fact that it's a phone game, but this looks really awesome to me. The opening animation, along with the new outfits and graphics pulled me in immediately. I really wish to see more of this.
Senran Kagura Burst Re:Newal Coming to PS4 in February 22, 2018
Out of all of the unexpected things that put a smile on my face during this whole presentation, this is the one that takes the cake. It was a very pleasant surprise to see an announcement for a complete remake of Senran Kagura Burst, the very first Senran Kagura game. It will contain everything that the 3DS game had, but now with fully remade graphics and gameplay changes that make it more akin to the more recent titles. After watching the gameplay, it felt like a completely different game, bringing to life all the potential that I saw in that 3DS title when I first played it.
In addition to that, there will be DLC for this game as well, one of them being Yumi. This is a bit weird, considering how Yumi didn't exist until Shinovi Versus. Who knows if she will actually take part in the story or if she'll just be an extra character that you can play with. Either way, I'm excited. The Japanese release date is February 22, 2018 exclusively for PS4; and it looks really, really awesome.
Extended Senran Kagura 7 Teaser and Senran Kagura Anime Season 2 Announcement
As they were wrapping up the presentation, they left us with one final thing. They rolled a video that was essentially the same teaser for Senran Kagura 7 that you can find at the end of Peach Beach Splash. However, this one was slightly extended to show more text and the renaming of the game to Senran Kagura 7EVEN: The Girls' Happiness. The game is slated for a Fall 2018 release. The final thing that the trailer shows is the announcement of a second season to the Senran Kagura anime, which is currently in the planning stages.
And there we go, that was everything that happened; and I am losing my mind about all of it. There is literally nothing in this presentation that I wasn't excited about. With the exception of SK7, I pretty much saw exactly what I was expecting, and then much more that surpassed my expectations. Out of everything here, I'm very hyped about the pinball game and the Burst remake, but I'm absolutely getting my hands on everything else too. This year has been fantastic for Senran Kagura fans, so if you're not one of them, now would be a good time to start.