Don't know what it is about Caligula that intrigues me so much. I guess the art style is so captivating that it stayed in my mind ever since I saw it. Unfortunately, the processing power of the PS Vita didn't allow for the best experience in terms of the gameplay, and so I never got around to playing it. Every time I looked at it, I always saw it as a test for something bigger that probably should've been on a home console. It seems that the developers of this game thought the same thing, since the publisher FuRyu has announced an Unreal Engine 4 remake of Caligula called Caligula: Overdose for PS4. It is scheduled to launch on March 17, 2018 in Japan for 7,980 yen. There is no news yet on a Western release, but I have a hunch that it will make it over here just fine.
This remake is not just a port, but rather a very drastic re-working of the game. The direction, visuals, processing, frame rate and pretty anything else you could think of has been improved an enormous amount. There is a new "Forbidden Musician Route," more endings, club members, musicians, songs and even the option of a female protagonist. Honestly, it might as well be a totally different game with how many changes, additions and upgrades this remake has. The original PS Vita game might as well be a beta for what would eventually become this.
In addition, there are already a bunch of pre-order bonuses for the game, which are the following:
Caligula: Overdose Special Album CD – An album with 10 new songs in addition to the theme song.
Special Booklet – A booklet featuring interviews with the composers, a short story, and more.
"Plain Clothes" Costume DLC – A download code to obtain the plain clothes for all Go-Home Club members. Apparently these won't come out as DLC.
Special Event Participation Application Ticket – An application ticket to participate in a special event that will be held after the game releases. Reina Ueda, Chiharu Sawashiro, Shunsuke Takeuchi, Mirei Tanaka, Emi Nitta, Soma Saito, Yuka Otsubo, and more are planned to appear.
And finally, we also have an announcement of a Caligula anime in the works. We don't really have information other than the official website for it and a single picture, but we'll surely hear more soon.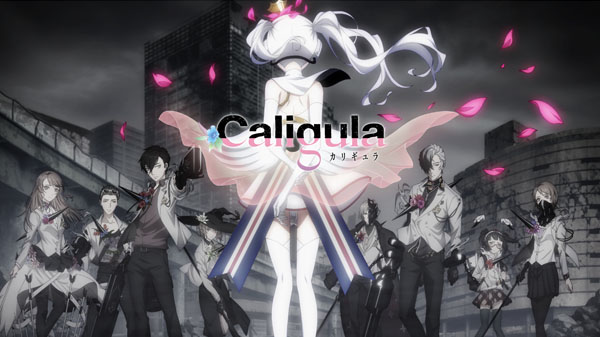 Enjoy some more screenshots. Honestly, this remake is looking pretty damn good. Looks like what the game shold've been from the beginning.
Source: Caligula (Youtube), Caligula-anime, Caligula Overdose, Gematsu