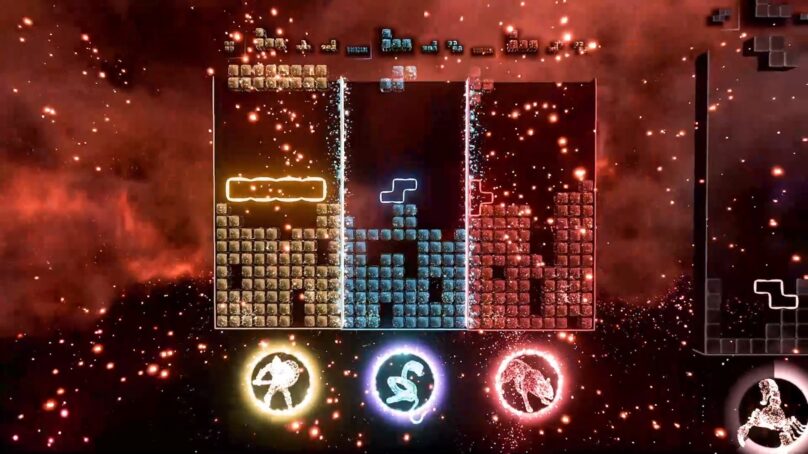 Enhance Games announced Tetris Effect: Connected during Microsoft's Xbox Games Showcase. It will be a timed exclusive for the Microsoft Store, Xbox Game Pass and Smart Delivery for Xbox One, Xbox Series X, and PC. When it comes to the original releases on PS4, The Epic Games Store and Oculus Quest, it will come out as a free update in Summer 2021.
This "Connected" version of the game is essentially a multiplayer expansion that lets you play with others either cooperatively or competitively, which includes cross-play with all Microsoft platforms. You can see the announcement trailer above. Below are some bullet points for the main features in this expansion:
Online or Local play for co-op or competitive play for 1-3 players.
You can combine each other's Tetris boards to play together and face off against challenging AI bosses.
Ranked and unranked play, matchmaking, and unlocking avatars via leveling up.
Cross-play between all Xbox Platforms: Xbox One, Xbox Series X, and Windows 10 PC.
The regular Tetris Effect game is also included.
Smart Delivery means Xbox One owners can upgrade to Xbox Series X any time for free.
Available for sale or via Xbox Game Pass at launch.
The way the game is releasing is looking like a really good deal for Xbox users. Game Pass and being able to upgrade your game copy to the newer console will really encourage more people to play on Xbox, since this is a great way to compete against Sony and Nintendo, who don't have anything close to this. PlayStation Now and Nintendo Switch Online don't even compare to how impressive this delivery for games are on Xbox. I've never owned an Xbox, but this is a pretty attractive deal if they do this for more games. The only bad thing about this is that the PS4 (and presumably PS5) versions of the game won't have this update until about a year from now, which means I won't be able to play it in VR either, unless I re-buy it on PC. That's a deal breaker for me, since that's pretty much the only way that I play Tetris Effect now.
Source: Enhance Experience (Youtube), Tetris Effect Official Site